Hello Friends, Readers, and Visitors,


It has been a very long while since I have posted on blog and I do apologize as I have been feverishly writing after I released RISING WIND: The Thunder Beings. It seems GOD had other plans for me to continue the story of Sercora and Gideon and now it has become a three book series!

Especially after this nasty COVID and pandemic, I decided to go for it and began writing the next books. Well, the writing and work is done for the rest of this series. If you have not had a chance to dive into book one, The Thunder Beings of Rising Wind, below I am sharing some exciting NEWS…

Even though Thunder Beings is already out and released? My publicist and I submitted all three books to the series through a literary influencer, Readers Favorite to get a feel of how good or bad (LOL) the manuscripts were. Below is the answers!

I really do hope you will grab a copy of Book One and begin the exciting journey of this series. It is packed with action and adventure, with a native American feel, and a multicultural mystery and throughout the essence of HOPE like no other book you have read. I am almost ready to release book two titled Ice and Bone, and then book three the finale.

I am today sharing the reviews I have gotten and I am so pleased with the results and reviews!
ENJOY!

~Diane Olsen, Author


# # # # # # # #


Rising Wind: The Thunder Beings
The Thunder Beings (The Rising Wind Series) by Diane Olsen
Fiction – Adventure
253 Pages
Reviewed on 02/24/2021

BOOK REVIEW

Reviewed by Scott Cahan for Readers' Favorite

Readers' Favorite announces the review of the Fiction – Adventure book "Rising Wind" by Diane Olsen, currently available at http://www.amazon.com/gp/product/0692096507.
Rising Wind: The Thunder Beings (Book One) by Diane Olsen is a story of adventure and spirituality. The story follows a man and a woman who don't know each other at first but they are drawn together by a mysterious thunderbird that is supposed to be extinct. Secora is a paleontologist who goes to South America to track another animal that was also thought to be extinct, a giant sloth. In the process of finding the sloth, she stirs up all kinds of trouble and soon finds a group of assassins after her.

Meanwhile, Gideon, a native American Indian who has left the ways and beliefs of his heritage behind, keeps having visions. A thunderbird is appearing to him and leading him to step out of his comfort zone and go to South America to help a woman he's never met to fulfill a mysterious mission.

Rising Wind is an effective mixture of science, spirituality, and adventure. There is just enough science present in the story to make the giant sloth and a small race of people called the Duendes seem like they could be real. The book is also filled with lots of spirituality involving beliefs from several different religions. The most prevalent is from Native Americans which is how the thunderbird is explained. I've already mentioned the adventure aspect, but I'll add that the story moves at a good pace, making every scene intriguing and at times exciting.

This book has a good cast of characters, all with unique and relatable personalities. Rising Wind by Diane Olsen is the first book in a series. It will be interesting to see more of the thunderbirds and other strange creatures as the series unfolds. I highly suggest this read! https://readersfavorite.com/book-review/rising-wind



# # # # # # # # # #



Reviewed By: Scott Cahan
Review Rating: Rising Wind: Ice and Bone (Book Two Unpublished – Series)
5 Stars – Congratulations on your 5-star review!


Ice and Bone by Diane Olsen is part two in the Rising Wind series. You could read this book as a stand-alone without reading the first one as the author does a decent job of bringing her readers up to speed, but my recommendation is to read part 1, The Thunder Beings, first if possible. The story is somewhat complex with lots of characters and it could get confusing if your first introduction to the series is Ice and Bone.
The best way I can think of to describe the Rising Wind series is as something akin to the Indiana Jones movies with a stronger emphasis on the science behind the archaeology, a female lead, and a bunch of spirituality thrown into the mix. In Ice and Bone, the discovery of ancient human remains, in a place where science and history say they shouldn't be, sets off a chain of events that pull our heroes, Secora and Gideon, into all kinds of new dangers. Will they and their budding romance survive?

And what will become of Secora's newly adopted baby, Monta? Secora is forced to bring her child along as she and her friends trek through the jungles of South America, trying to stay one step ahead of those who will stop at nothing to prevent the new archaeological discovery from being made public.
Rising Wind: Ice and Bone is a gripping thrill ride full of action and colorful characters. Author Diane Olsen does a great job of balancing the fast-moving plot with interesting interactions between her characters. The science behind the discoveries in the book is also handled very well and expertly woven into the story to make it all feel very believable.

Fans of archaeology fiction based on real science are sure to enjoy Ice and Bone as well as its predecessor, The Thunder Beings. Step aside, Indiana Jones; a new hero, Secora James, has arrived to dig up controversial discoveries and protect them from the evil forces who want to steal them and use them for evil.

I highly recommend Rising Wind: Ice and Bone.





AUTHOR BIOGRAPHY



Award-winning Author, Diane Olsen, is the prolific writer and award-winning author of her debut book titled; "Ancient Ways: The Roots of Religion," a bronze medal winner given by Illumination Book Awards.
Ancient Ways is thought-provoking and an informative look at the development and evolution of religion throughout time and a well-considered concept – the idea of a connective thread of monotheistic faith throughout history from the birth of human creation.
Now comes her new release titled; "RISING WIND: The Thunder Beings" (Book One a Series.) Adapted from an original screenplay Diane wrote several years ago, she has now written it for all her readers to enjoy as an amazing Fiction, Action-Adventure, with Super Natural and Mystery elements.
Diane was born in Colorado Springs, Colorado, and she now lives in the beautiful Pacific Northwest and the State of Washington. Diane was an Undergrad at Colorado State University Ft. Collins: Pre-vet med, Anthropology, then attended and received her BA and MA at the University of Montana, Missoula: Anthropology, Archaeology, and Paleontology. She was a Graduate Teaching Assistant for two years.
Diane enjoys writing, reading good books, spending time with her grandkids, and loves cooking. A few of her favorite books are 'The Book of Certitude (Kitab-i-Iqan), The Upanishads, and The Great Initiates.' She resides in the Pacific Northwest in WA. State.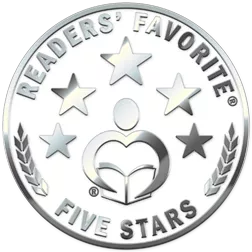 ABOUT READERS FAVORITE: Readers' Favorite is one of the largest book review and award contest sites on the Internet. They have earned the respect of renowned publishers like Random House, Simon & Schuster, and Harper Collins, and have received the "Best Websites for Authors" and "Honoring Excellence" awards from the Association of Independent Authors. They are also fully accredited by the BBB (A+ rating), which is a rarity among Book Review and Book Award Contest companies.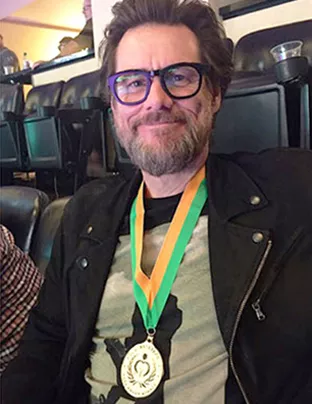 Jim Carrey sports his Readers'
Favorite Gold Medal.